---
WELCOME to Sunspun Shelties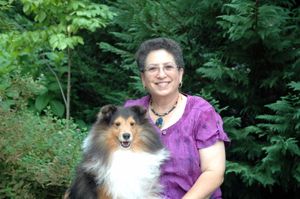 There is lots to look at and lots of information for those of you who LOVE...... Shetland Sheepdogs or Shelties.

We are an active household that is always on the move. My dogs are involved in the conformation or breed ring. There were involved in obedience and agility at one point.

Please check out the web site and feel free to ask me questions.

I am an AKC BREEDER OF MERIT, 
reputable breeder
. Here is another page describing
reputable breeding
.  I breed to the
AKC standard
(The American Kennel Club.) I am a long time member of the Shetland Sheepdog Club of Southeast Florida (
www.sscsefl.com), the Dog Obedience Club of Hollywood, (
dogclubofhollywood.com
),  and a proud member of the American Shetland Sheepdog Association (our parent or national club.(
http://www.assa.org
))

I am a member of the American Kennel Club Breeder Of Merit Program.



Tucker "Ch. Sunspun Snug As A Bug" is growing his new coat and is being shown by Sheila Monks (Shield Creset Shetland Sheepdogs). Watch out for him starting in the Brooksville shows in January 2022.


YOU CAN VIEW HIS PICTURES UNDER THE "BOYS" TAB


*****At this time, I do not have any puppies available, nor am I planning a litter anytime soon. If you fill out my PUPPY BUYER APPLICATION I will forward it to our puppy referral person for reputable breeders
THANK YOU.

******Please remember that I am a reputable breeder (Breeder of Merit)  that breeds to the AKC standard for the conformation/performance rings. Reputable breeders put a lot of time and care into their dogs and puppies.  Not all puppies will be available to pet homes. Look at the pictures but DO NOT get your hearts set on any one puppy.
 
"Tucker", Grand Champion Champion Sunspun Snug As A Bug
HANDLER: SHIELD CREST SHETLAND SHEEPDOGS  SHEILA MONKS
Tucker has earned his Grand Championship being professionally handled by Sheila Monks of Shield Crest Shetland Sheepdogs.  Many thanks to her for her efforts and for taking care of him. Pictures, information and pedigree under the Boys tab.
HANDLERS: SUNWAY PRESENTATION  NICK JOINES & JOEL MCCARTY
January 9th and 10th, 2021
At the Shetland Sheepdog Club of SE Floridas' four shows this past weekend in Ocala, Tucker earned his first points. A five point specialty major -- Judge Judith Pitt on Saturday (show 2). On Sunday (show 1) he earned a major Reserve Winners Dog -- Judge Ms. Brenda Miramon He is being expertly handled by Sunway Presentation Shetland Sheepdogs and Collies (Nick Joines and Joel McCarty)
At the Mid Florida Shetland Sheepdog Club Specialty (AM Show), Tucker "Sunspun Snug As A Bug" was awarded Winners Dog and Best of Winners for his second 5 points specialty major. I want to give Judge Robert Olsen a big thank you for awarding Tucker these placements
I once again want to give a BIG thanks to the SUNWAY PRESENTATION team of Nick Joines and Joel McCarty for the professional presentation that led to this win.
Tucker now has 10 points (both majors). I am looking forward to his next set of shows.

Tucker is a Hershey son (GCHB MBISS CH Silverado Coastal Mocha Latte).
Tuckers' Sire Hershey is now GCHB MBISS CH Silverado Coastal Mocha Latte)  Hershey is close to earning his Silver Grand Champion.
Thursday, May 6, 2021 & Friday, May 7, 2021
I am very proud of my Tucker "Sunspun Snug As A Bug". Thursday May 6. Judge Sandra MacIntosh-Feret awarded Tucker 1st place in the Open Sable class at our American Shetland Sheepdog Association show of the year, our National, in Perry, Georgia. Even with COVID hampering a lot of Sheltie people who wanted to be there, there was a large entry.
Thank you Judge Sandra MacIntosh-Feret for the wonderful placement.
The Sunway Team (Nick Joines and Joel McCarty), once again did a fabulous job of preparing him. A Huge THANK YOU to Joel McCarty for expertly showing him in Open Sable Class and to Nick Joines for showing him in the Winners Dog Class.
I want to congratulate all the winners and the Sheltie people who were fortunate to earn a placement.
Sunday, May 30, 2021  Trumbull County Kennel Club (PA)
Today the fabulous Sunway team of Nick Joines and Joel McCarty showed Tucker to his best. Judge Joao Machado awarded Tucker lots of placements and the final 5 points (another major) to finished his AKC Championship (pending AKC approval).
FIRST IN OPEN SABLE_Judge Joao Machado
WINNER'S DOG_Judge Joao Machado
NEW CHAMPION
BEST OF WINNERS'_Judge Joao Machado
BEST OF BREED _Judge Joao Machado
HERDING GROUP_GROUP 2_Judge Joao Machado
---

Web Site Updated: February 21, 2022